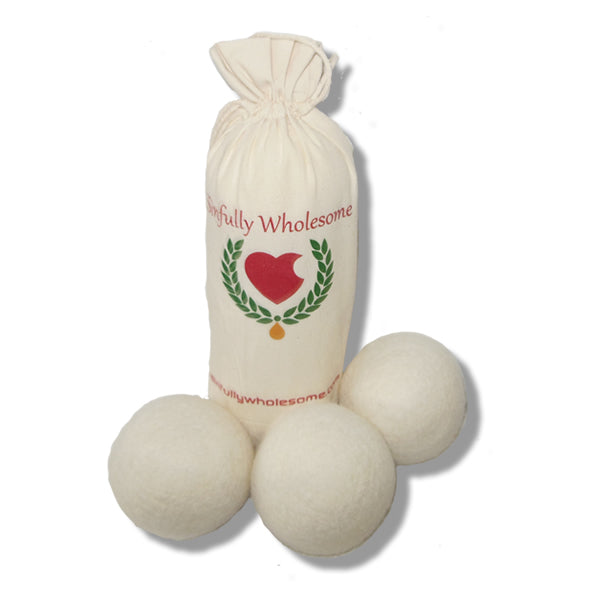 3 XL Superior Wool Dryer Balls
3 XL Superior 

Wool Dryer Balls + Free reusable, all natural cotton storage bag
3 XL Reusable Wool Dryer Balls

- 

Handmade in Nepal from 100% Virgin New Zealand Wool (Colours may vary)
Wool Dryer Balls are a great all natural away to reduce static, soften and fluff up fabrics and speed up drying time which can help you save money on your power bills.
Benefits of using our Wool Dryer Balls: 
Free reusable all natural cotton storage bag
100% Virgin New Zealand Wool
Reusable - 1001 uses
Safe to use on all fabric types
All natural fabric softener
Reduces the aging of fabrics
Helps to eliminate wrinkles
Helps to eliminate lint buildup on your clothing 

Reduces static

Reduces drying time (save power and money)

Fragrance and odour free

Eliminates VOCs (volatile organic compounds) from dryer exhaust
Supports Woman's economic development projects in Nepal
How to use Wool Dryer Balls in your dryer:
1. Place your Handmade Wool Dryer Balls in the dryer with your laundry.
2. Turn on your dryer, and presto, your clothes will dry faster, fluffier and softer. 
TIP: Use 3 + Wool Dryer Balls for small to medium loads, and 6 + for larger loads.
How do 

Wool Dryer Balls work?
Wool Dryer Balls work by getting between and separating the clothing in your dryer allowing the warm dry air  to circulate more freely and work more effectively thereby speeding up the drying time.
How do Wool Dryer Balls reduce static?
Wool Dryer Balls help to reduce static by absorbing moisture from your laundry and releasing it slowly keeping the air in your dyer more humid. Dry air causes static, humid air reduces static. It's that easy.
 TIP: Attaching a small safety pin to one Wool Dryer Ball can help to reduce static even more. (Be careful to attach it properly to avoid snagging)  
---
Share this Product
---
More from this collection